Lifestyle
Luvme Hair's Guide to Wigs for Beginners
Are you tired of dealing with bad hair days and want a change? Wigs can provide an effective and effortless solution.
But the entire experience can be a little intimidating for someone new to wigs, with many types, styles, and materials to choose from. It may feel impossible. That is why we created this Luvme Hair guide. It assists beginners in navigating this fascinating world of wigs.
By the time this article ends, you'll know everything there is to know about picking out and caring for a wig. For any face shape imaginable. Everything from choosing and selecting an ideal style through maintenance!At that point, you will become an expert wig wearer ready to rock any style desired!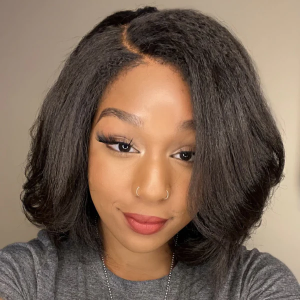 What Does a Wig Mean
A wig is a valuable and popular hair accessory. It serves many purposes and offers instantaneous transformation of one's appearance. It's achieved by covering your head in human hair wigs or synthetic hair strands. It provides instant renewal of looks while hiding visible signs of hair thinning or loss.
Wigs are a convenient option to help you change hairstyles. While also offering users various lengths, colors, and textures so that they can transform their appearance.
Furthermore, they're helpful for related conditions such as Alopecia or chemotherapy treatments where natural hair loss occurs.
Modern society has taken to wearing wigs more and more for aesthetic purposes. Many choose them to help perfect style and hair without damaging natural locks.
Experience has shown us the appeal of having a wig as an easy solution for bad hair days. Not to mention being versatile enough for use across age or gender categories! Wigs provide many advantages to anyone experimenting with new looks. They also give more styling possibilities.
How to Properly Take Care of a Wig
Proper care of wigs is paramount to ensure they look their best and last as long as possible.
Brushing should help to remove tangles and maintain natural-looking results. To do this, either place the wig on a mannequin head. Instead, wear it while holding up a mirror in front of yourself while doing this task.
Avoid tugging the wig from one side when brushing the wig, as this will increase breakage and hair loss, particularly with long straight styles. Start from below or sides. Working up towards roots using gentle pressure from tips upward.
Be careful to brush, as too much force may damage your beautiful wig or hairpiece. Remember to add hairspray or serum for long-term static-free protection!
Your beautiful wig can remain wearable by maintaining and taking good care. So be meticulous in cleaning and maintenance practices!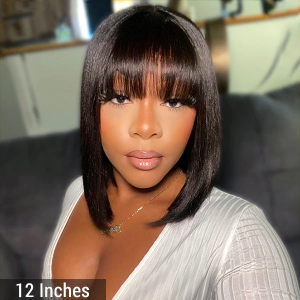 How to Put on a Wig
Installing any wig may seem complicated at first. Yet, a unique hairstyle can add another level of interest. Along with versatility to any ensemble.
Before donning any piece, still, all-natural hair must be secure and put back. This is so it looks seamless when applying the piece. Start by tying your locks into a ponytail. Then spray or gel the flyaways away using spray or gel products.
Use a wig liner, bobby pins, or an adjustable cap to secure loose hairs for optimal comfort and security. Pulling out specific strands may help your wig blend in more once applied.
Position the wig on your head by ensuring all edges rest flush against your scalp. Let it lie over your head shape. So as not to distract from its beauty with any awkward appearance. Those not matching up with facial features.
Avoiding this could result in creating a much smoother surface. This will draw less attention when people take one glimpse of you!
If your hair continues moving too much, try using more pins. This will help with more hold or add extra gel/spray after each application.
What Should You Consider When Selecting Wigs?
The purchase of a wig can be daunting for some people. Before making this investment, there are specific considerations. These are the ones you need to remember, especially before buying your first or next one. In particular, identify your hair type. This will help you to select an ideal style based on this information. There is something suitable for curly, kinky, straight, and wavy hair!
Also, selecting a wig that fits and embodies your personality and needs is paramount. Color plays an integral part in how wigs frame faces. Please ensure the shade chosen complements your natural hair shade and flatters it. Furthermore, consider length when purchasing your new look, as not all styles meet this ideal standard.
Your lifestyle is also integral to choosing which wig you need when buying one. For example, an active person would do well choosing human hair wigs since these offer greater flexibility. Especially when participating in activities such as yoga and aerobics classes.
Purchasing and selecting a wig might seem intimidating. Investing time and energy is always well spent searching for that perfect look.
Who is Luvme Hair?
Luvme Hair is your one-stop destination for luxurious, high-quality real hair wigs. Designed to make you look and feel your best.
Our team of specialists specializes in crafting ready-to-wear styles. We combine fashionable looks with comfort. Allowing for an instant switch-up of styles with no effort required!
Features:
Ready-to-go wigs that combine style and comfort
Uncompromising quality wigs
Innovative designs incorporate current fashion trends
Low Maintenance
Empowering women to express themselves
Our carefully-crafted wigs combine lasting glamor and comfort for optimal wearability.
Luvme Hair offers everyday styles and looks. Ones for every special event or celebration imaginable. Come check out our collection today and discover your new go-to wig!
Are you New to Wigs?
Don't feel intimidated! With some helpful hints and techniques, even beginners will become experts. Especially at styling and wearing them with style and confidence.
Make sure that high-quality beginner-friendly wigs are on the shopping list. Experiment with various styles and colors. Have fun expressing yourself through unique style statements!
Wavy hair pieces offer the opportunity to add variety and enhance natural beauty. This an easy solution when seeking change or when you're seeking fun accessories! Wigs can add the finishing touch.
Our wigs are always styled with fashion trends in mind. Guaranteeing you always look chic and on-trend. You can achieve flawless looks with low maintenance requirements and easy installation processes. Without spending hours staring into a mirror!
Start your wig journey now with Luvme Hair!