Elbow injuries are common among women who engage in sports, hobbies, or jobs that involve repetitive or forceful movements of the arm. These injuries can cause pain, inflammation, and reduced range of motion in the elbow joint. Some of the most common elbow conditions that affect women are:
Table of Contents
• Tennis elbow: This is caused by inflammation of the tendons that attach the forearm muscles to the outside of the elbow. It often occurs due to overuse of the wrist and forearm muscles, such as in tennis, golf, or typing.
• Golfer's elbow: This is similar to tennis elbow, but it affects the tendons that attach the forearm muscles to the inside of the elbow. It often occurs due to overuse of the wrist and forearm muscles, such as in golf, bowling, or gardening.
• Bursitis: This is caused by inflammation of the bursa, a fluid-filled sac that cushions the elbow joint. It often occurs due to trauma, infection, or prolonged pressure on the elbow, such as leaning on a hard surface.
• Arthritis: This is caused by degeneration of the cartilage that covers the bones of the elbow joint. It often occurs due to aging, injury, or wear and tear. It can cause pain, stiffness, and swelling in the elbow.
Elbow injuries can be debilitating and hinder daily activities. Whether you're recovering from a recent injury or managing a chronic condition like tennis elbow or other, utilizing elbow braces effectively can aid in the healing process and enhance your overall mobility. In this guide, we will delve into the importance of elbow braces for women, how to select the right brace, rehabilitation exercises, and how Zofore Sport elbow brace can support your recovery journey.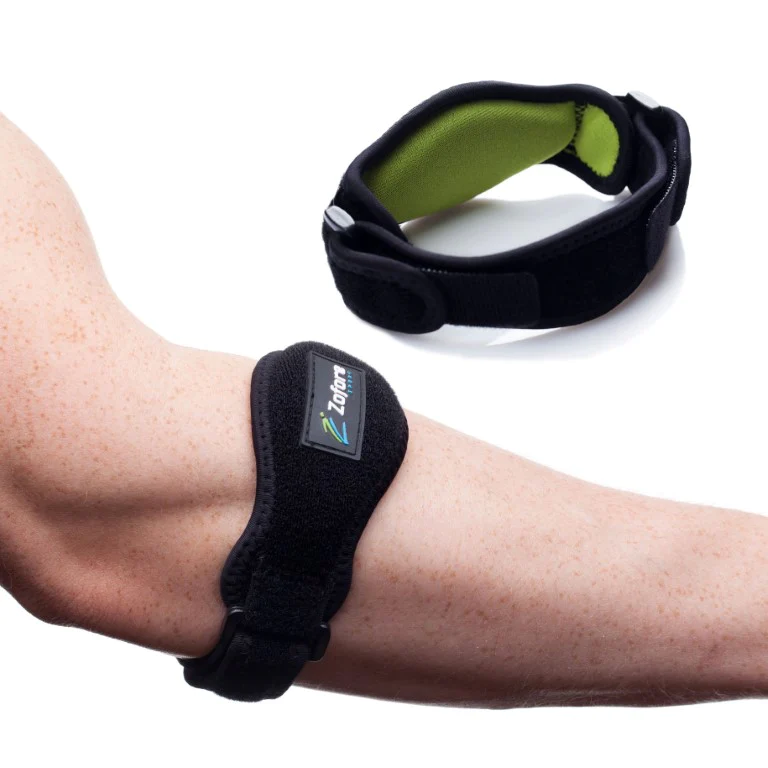 The Importance of Elbow Braces for Women
Stabilization and Support
Elbow braces provide stability to the injured area, supporting the muscles, tendons, and ligaments around the elbow. This stability is crucial in preventing further damage during activities.
Pain Management
Elbow braces can alleviate pain by distributing pressure evenly, reducing strain on affected muscles and tendons. This can significantly enhance comfort during movement and daily tasks.
Faster Recovery
Properly fitted elbow braces promote a faster healing process by restricting unwanted movements that could impede recovery. They enable you to resume gentle exercises and rehabilitation sooner.
Prevention of Re-injury
Elbow braces act as a preventive measure, reducing the risk of re-injury during physical activities. They offer a layer of protection and confidence to engage in sports or exercise without fear of exacerbating the injury.
Selecting the Right Elbow Brace
Consult a Professional: Before choosing a brace for elbow, consult a healthcare professional to determine the type and severity of your injury. They can provide valuable insights into the type of brace suitable for your condition.
Consider the Type of Injury: Different elbow braces cater to specific injuries. For conditions like tennis elbow, a compression sleeve might suffice, while severe injuries may require a hinged or immobilizing brace for maximum support.
Correct Size and Fit: Ensure the brace fits snugly but not too tight. A properly fitting brace will provide the necessary support without restricting blood circulation or causing discomfort.
Material and Durability: Opt for braces made of high-quality, breathable materials that offer both durability and comfort. Look for features like moisture-wicking and anti-odor properties for added convenience.
Rehabilitation Exercises for Elbow Injury Recovery
Flexion and Extension Exercises – gently bend and straighten your elbow to improve mobility and strengthen the muscles surrounding the joint.
Grip Strengthening – squeeze a soft ball or stress ball to enhance grip strength, which is vital for daily activities and sports.
Wrist Flexor and Extensor Stretch – stretching exercises for the wrist help in rehabilitating the forearm muscles and easing tension on the elbow.
Rotator Cuff Strengthening – perform exercises targeting the rotator cuff muscles to improve shoulder stability and aid in elbow recovery.
Introducing Zofore Sport Elbow Brace
For a reliable and effective elbow brace, consider the Zofore Sport tennis elbow brace with compression pad. Designed to focus on comfort, support, and durability, this brace is ideal for women looking to enhance their recovery from elbow injuries or manage conditions like tennis elbow and golfer's elbow.
Advantages of Zofore Sport Tennis/Golfer's Elbow Brace:
Compression and Support: The Zofore Sport elbow brace offers targeted compression to reduce pain and swelling while providing ample support to the elbow joint during activities.
Premium Material: Crafted from high-quality neoprene and nylon, this brace is breathable, moisture-wicking, and ensures long-lasting use without discomfort.
Adjustable Straps: The brace features adjustable straps, allowing you to customize the fit for maximum comfort and effective support.
Versatile Use: Whether you're recovering from an injury or aiming to prevent one, the Zofore Sports elbow brace is versatile and suitable for various activities and sports.
In conclusion, utilizing an elbow brace like the Zofore Sports elbow brace with a compression pad can significantly aid in the recovery and management of elbow injuries for women. Remember to choose the right brace based on your injury, consult a healthcare professional, and engage in rehabilitation exercises to enhance your recovery process.